Could we be any more proud of our clients?

After seeing the official results from the March 4th VIDA count, probably not.

Benay clients Tin House and Granta were rated by VIDA as two of the most progressive publishers these days when it comes to gender equality.

Out of the fifteen that were reviewed by VIDA they and the Boston Review were the only ones to find that they were balanced between men and women in editors, reviewers, contributors, and otherwise.

The remaining twelve were shown to be starkly in favor of women.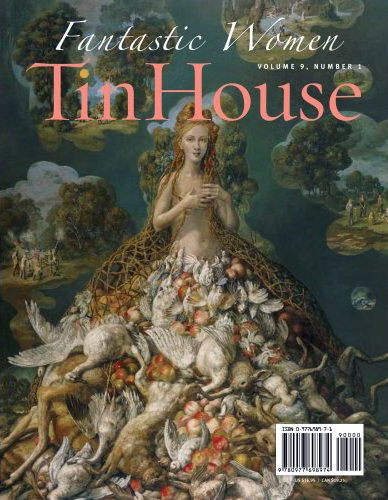 The "Fantastic Women" issue of
Tin House, issued Fall 2007
"It isn't rocket science" – the very words of Tin House Editor, Rob Spillman as quoted in a recent article on the pop culture blog, Flavorwire.

Spillman states, "…you would think others would move toward gender equality, or at least make a gesture toward it… for us the VIDA count was a spur, a call to action."
How right he is.

The numbers of the VIDA count were dismal in many cases.

The New Yorker results showed roughly two and a half times as many men were employed in all categories; The New York Review of Books was even more imbalanced at around five times as many male contenders in all categories.
Not surprisingly, Tin House was singing somewhat of the same song not too long ago.

The difference is in the way they handled it.

The editorial team saw that even though they asked for an even split of writers to cover, people just kept writing more about male authors.

So what did they do?

They did what any truly proactive, progressive publisher would do – they got über deliberate.

Spillman and his team decided to section off a chunk of time every editorial meeting to re-evaluate the gender balance.

If it is off-kilter they fix it.

It's as simple as that, no fuel cell chemical equation required.
Those over at Granta take an even simpler approach; they take gender out of the equation altogether.

For Editor John Freeman it is not a matter of the best female writers and the best male writers featured in his magazine, it is the best writers.

He seems to find that middle part erroneous.
"I don't force myself to think of Louise Erdrich, or Karen Russell," Freeman says in the Flavorwire article. "In fact, it is hard for me not to [think about them]; to me, they are simply the best out there."

American Dream Machine author
Matthew Specktor with his daughter.
Now it is not as if this means that the writers at Tin House and Granta, respectively, are chosen out of gender equal merit.

Matthew Specktor's novel American Dream Machine set to release from Tin House next month hardly holds any female characters at all.

It is a story, told from male protagonist Nate Rosenwald's point of view, about his one-time successful talent agent father Beau Rosenwald.

Nate relates the story of his father's personal reinvention as he starts up his own agency, the American Dream Machine, with friend and consequent business partner, William Farquarson.
It is a son-and-father tale to beat the best of them, and there is nothing wrong with that.

As a recent review of Specktor's novel on bookbrowse.com says, this novel may be all about men but it is by no means only for men.

In the novel Nate narrates with a distinctly authorial voice, channeling Specktor himself when he says, "This story… isn't about some bored actress and her existential crises, a troubled screenwriter who comes to his senses and hightails it back to Illinois. It's not about the vacuous horror of the California dream. It's something that could've happened anywhere else in the world, but instead settled, inexplicably, here."
Hearing the novel put in this light, it isn't really surprising, then, that it's coming out of Tin House.

It could happen to anyone - it is applicable to anyone, un-biased and free from pretense.
- Colleen McClintock